No fall break this semester, no competitive sports and classes will end Nov. 25
By Deborah Jeanne Sergeant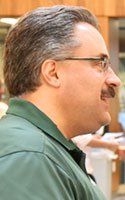 Planning much of anything has been hard since the pandemic began, and returning to or starting school offers another example.
As expected, cleaning is ramped up and masks and shields will be everywhere — most of us are used to this — but other changes are slated, including a health questionnaire and COVID-19 test for each student.
"Some things we're doing will need to be radically different," said Mike Paestella, assistant director of campus life and student involvement with SUNY Oswego.
He said that many virtual events took place last spring and it's likely these will continue this fall semester as well.
The Oswego Forward plan (ww1.oswego.edu/oswego-forward) welcomes SUNY Oswego students based on guidance from the governor's office and the New York State Department of Health.
Though subject to change, the plan includes directions for the school's planned blend of online, hybrid and in-person classes — about one-third of each option — to reduce crowd sizes. In addition to arriving early, some students will finish early.
All in-person classes will wrap up by Nov. 25 and the fall term will end Dec. 11. Most finals will be remote. The school has canceled breaks and will hold classes on days where the calendar lists holidays.
Students using the meal plan can order online, pick up at the dining hall to take out or dine onsite with social distancing.
"We are looking forward to welcoming the students to our beautiful, engaging campus on the shores of Lake Ontario," said Deborah F. Stanley, Oswego president, on the school website.
Competitive sports will be suspended. Those planning to participate in the school's extracurricular activities will be updated by email.
Cayuga Community College
Andrew Poole, representing Cayuga Community College (www.cayuga-cc.edu/coronavirus), said that the school "will continue to prioritize students' health and safety by offering most courses in a distance learning format for the fall 2020 semester."
At least 85% will be online with no physical presence required.
"While we miss seeing our students on our campuses, this was not a difficult decision," said Cayuga President Brian Durant. "Above all, we want our students to be healthy and safe, and the best way we can help is to allow them to work and learn from the safety of their homes."
The Student Life activities, tutoring and mentoring will be mostly virtual and the fall athletics have been cancelled.
To receive emergency news, Cayuga students should sign up for the Rave Alert System at www.cayuga-cc.edu/public-safety/safety-alerts/index.html.
Please follow and like us: