Oswego has tradition of excellent breakfast venues for hungry college community
By Lou Sorendo
It's fuel for thought.
The SUNY Oswego college community has many options when it comes to breakfast venues in the city of Oswego.
There is the iconic Wade's Diner on the city's east side and legendary Jocko's Famous Ritz Diner on the west side, but the city also offers an array of eateries with their own special niches.
There is down-home family cooking at Maria's Family Restaurant, a healthy approach at The Cutting Board, and a café atmosphere at Port City Café & Bakery and Oswego Tea Company Café.
Without a doubt, these eateries cater to virtually every taste of college students and their families, faculty and administrators.
---
Wade's Diner
What Rudy's Lakeside Drive-In is to fish dinners and Texas hots, Wade's Diner is to breakfast.
The iconic restaurant has served customers in Oswego for more than 80 years. The original owner, Neal Wade, started the business in a Pullman car, or a railroad sleeping car. Anthony Zappala and Joseph Clark have owned and operated the diner since 1983.
Wade's is located at 176 E. Ninth St., Oswego, at the intersection of East Ninth and Bridge streets.
For the last several years, Wade's Diner has been enjoying a steady flow of college students.
However, in 2017, that traffic slowed.
"I don't know why it seems they don't know that we are here," said Tracy Fox, manager and head waitress at Wade's. She and her husband Teddy Straight, the head cook, met at Wade's Diner.
She noted perhaps many past graduates did not spread the word down to the younger students.
Wade's is now open until 1 p.m. on Sundays to accommodate a later crowd.
"The don't have to be done by 1. They just have to be in the door or in line by closing time and they will get fed," she said.
Fox advised patrons to car pool because of the lack of parking. She also noted that only cash is accepted.
Fox said Wade's is famous for its omelets as well as its homemade raisin bread and French toast.
All omelets come with home fries and toast. In 2017, Wade's started serving a steak omelet, which is especially good with mushrooms and onions.
"We make all our own bread here — white, wheat, cinnamon raisin and rye," said Fox, noting Wade's has its own bakery downstairs and makes its own bread four times a week.
Patrons can also purchase breads to take out.
Wade's also is popular for its wraps, pancakes, frittatas, sausage gravy and biscuits, oatmeal, and several varieties of egg white omelets for those who enjoy a healthier selection.
One of the unique aspects of Wade's is the wait staff does not write down orders at tables. Instead, they memorize the orders then write down the specifics for the cooks.
"It cuts down on time," said Fox, who has worked at Wade's for 15 years. Fox taught the different system to fellow server Kirstie DeGrande.
"She was doing it within a month. It's all about focus and concentration and really listening to what customers want," she said.
• Phone: 315-343-6429
• Hours: Open from 6 a.m. to noon Monday through Saturday and from 6 a.m. to 1 p.m. Sundays
• Website: http://wadesdineroswego.com/
• Facebook: @Wades-Diner
---
Maria's Family Restaurant
In Italy, breakfast is known as colazione.
Maria Conzone, owner and general manager of Maria's Family Restaurant, 111 W. Second St., Oswego, brings a taste of Italy to the Port City with her daily food specialties and all-day breakfast.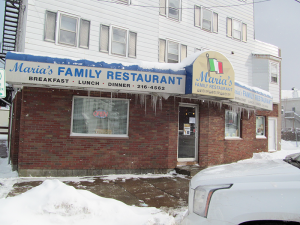 Conzone will be celebrating her sixth year in business in February. She noted more college students are patronizing her business every year.
"I feel that we are an in-between restaurant. We're not expensive, and we are not a diner per se, not that they are bad or anything," she said. "We're in the middle where I can serve you a nice, home-cooked meal."
Of course, Conzone adheres to the "Italian way," which is to ensure patrons' bellies are full and appetites satisfied when they leave.
The restaurant features its signature cinnamon roll pancakes. Conzone also makes her own raisin bread, and other homemade delicacies include scalloped potatoes, sauces and desserts.
"My parents were in the restaurant business and I was practically born in a restaurant. It's in my blood," she noted.
Conzone said she gets her gratification from seeing people enjoy her food as well as patrons who socialize from table to table.
"As far as the college kids, if ever they are downtown and anything happens, we have a safe place and they can come here. We'll take care of them," she said.
In terms of her senior and local customers, "they are my friends and family here at Maria's," she said.
The family owned and operated business offers plenty of street and parking lot parking.
• Phone: 315-216-4562
• Hours are 6 a.m. to 8 p.m. Monday through Saturday and 7 a.m. to 2 p.m. on Sunday
• Facebook: www.facebook.com/Marias-Family-Restaurant
---
The Cutting Board
For those looking for an alternative when it comes to breakfast fare, The Cutting Board, 35 W. Bridge St., Oswego, is quite a feasible option.
The business features a deli, sandwich shop and restaurant.
Owner Chelsea Wahrendorf has done an admirable job in transforming the business into an upbeat sandwich, salad and soup shop that features unique tastes and a great presentation within a hip atmosphere.
The business opened on April 19, 2012.
The Cutting Board itself was inspired by Wahrendorf's desire to bring healthier and fresher options to Oswego's breakfast and lunch crowd.
"I feel a lot of young people these days are trying to move toward a more health conscious way of eating," Wahrendorf said.
She noted there is also a large number of vegetarians and vegans among the college population, and many patronize her business because of its healthy offerings.
Wahrendorf noted the business offers an eclectic array of foods to choose from.
Popular among the college crowd are breakfast burritos, as well as smashed avocado toast with hard-boiled eggs and a breakfast bowl of hummus, poached eggs, avocado and mushrooms.
Wahrendorf said her business is not a diner.
"If you're looking for that diner atmosphere, there are a lot of great options in Oswego. But if you're looking for something different, there really isn't [any of those type of venues]. I feel that sets me apart. I'm not a diner but more focused on a composed dish as opposed to typical diner fare," she noted.
• Phone: 315-343-1008
• The Cutting Board is open: 7 a.m. to 2:30 p.m. Monday through Friday, and from 8 a.m. to 2:30 p.m. on Saturdays. It is closed on Sundays.
• Facebook: @thecuttingboard35
---
Jocko's Famous Ritz Diner
For many Oswegonians as well as the SUNY Oswego college community, breakfast at Jocko's Famous Ritz Diner in Oswego is tradition.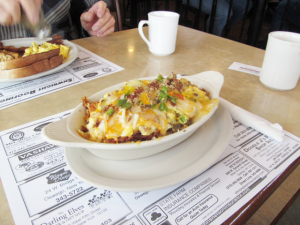 The diner, located at 359 W. First St., has been an Oswego dining staple for more than 35 years.
Phil Reitz, son of founder Jocko Reitz, said college students are looking for a hardy, homemade, tasty and filling meal in a social atmosphere.
"Dining is a formal affair, except in a diner. A diner is a place for socialization and connecting with community," he said. "I wish we were closer to the college so they could visit us more often throughout the week. College students really embrace the camaraderie associated with diner dining."
The diner features plenty of parking lot parking and serves breakfast, lunch, dinner and coffee.
Leading selections for college students include breakfast burritos, breakfast boats and bowls, frittatas, Denver omelets, The Ritz breakfast sandwich and "fiery" home fries.
The Ritz features farm-fresh eggs with American cheese and choice of baked ham, savory bacon or breakfast sausage on grilled Italian bread.
Breakfast also features its popular omelets, combos, pancakes, and varieties of French toast, along with a host of breakfast sides.
Reitz noted his business is competitive based on quality ingredients, taste, a variety of breakfast options, and a menu that is refreshed every three months.
He said The Ritz has become a tradition for the college community, a legacy his father created.
"College students have been coming here for years based almost solely off word of mouth from other college students," Reitz said.
In terms of the college crowd, Reitz said his staff "truly cares that they enjoy their experience.
"We don't take their presence for granted. We make menu items specifically that we think college students would like," he noted.
Reitz said the diner has served many different items that have circulated throughout the seasonally varied menu that they have popularized to the point of permanently becoming fixtures on the menu.
"They are always guaranteed to have a great meal and a good time for what we consider reasonable prices, especially considering the cost of doing business today," he said.
Reitz said he "would love to hear suggestions from the college crowd on how we could earn their business and get them to visit throughout the week instead of just the weekend."
Of course, talking about the dining would not be complete without mentioning its founder, Philip "Jocko" Reitz.
"Born an entertainer and always a gas, he was an unforgettable, original, accept no substitutions, charismatic, tell it how it is, electrifying kind of guy. He founded this business in earnest to bring people together and entertain them with his unique persona," Philip says on his website.
• Phone: 315-342-0947
• Hours: The diner is open from 6 a.m. to 3:30 p.m. daily.
• Website: www.jockosritzdiner.com
• Facebook: @JockosRitzDiner
---
Port City Café & Bakery
The best ingredients, made fresh for you. No Compromises."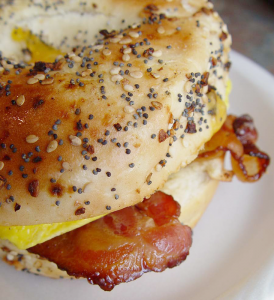 This is the mantra for Port City Café & Bakery, 209 W. First St., Oswego.
Owner Laurie O'Brien has operated the café and bakery since May of 1996. She is also the owner of The Red Sun Fire Roasting Co. in Oswego.
The breakfast menu features breakfast sandwiches, including the "Southern Style," which features eggs, homemade sausage, roasted red peppers, caramelized onions and cheese.
An all-day menu offers soups, sandwiches, wraps, paninis, cold and hot subs, and signatures salads, including the Port City House Salad, which consists of romaine, tomato, carrot, cucumber and red onion with dressing of choice.
The business also offers weekly soup and sandwich specials.
Its bakery features pastries, specialty cakes and special orders.
O'Brien said she is always encouraged to see traffic from the college community.
She said members of the college community frequent her establishment, particularly around parents' weekend and graduation.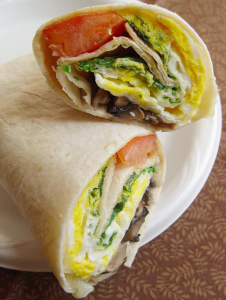 "A lot of people dine at The Red Sun Fire Roasting Co., and come back to Port City Café & Bakery the next morning," she said.
O'Brien said while the breakfast menu is rather limited, it does feature breakfast wraps and bagels.
"I think our food is really good," she said.
"Our breakfast bagels are huge," said O'Brien, noting she uses Applewood smoked bacon. "We also make our own sausage from ground pork and it's delicious."
The bakery also features an array of pastries, including muffins and Danish, all suitable for breakfast.
In terms of competitive edge, O'Brien said she uses only top-quality ingredients.
"We make a lot of things from scratch that are fresh. I think our food is quality and tastes good," she said.
• Phone: 315-343-2412
• The business is open from 7a.m. to 9 p.m. weekdays, 8 a.m. to 6 p.m. on Saturday and from 8 a.m. to 3 p.m. on Sunday.
• Website: https://portcitycafe.com/
• Facebook: @Port-City-Cafe-and-Bakery
---
The Oswego Tea Company Café and Bakery
The Oswego Tea Company Café and Bakery, 157 E. First St., Oswego, is a breakfast and brunch restaurant.
It is an upscale cafe and bakery that specializes in homemade breads and pastries, and is known for its "amazing" cinnamon raisin bread.
All of its homemade breads are available for order, including raisin bread, garlic mozzarella, cheddar jalapeño, and gluten-free breads.
The business serves breakfast all day and offers free lunch delivery with a minimum $10 purchase.
"This is my absolute favorite place in Oswego. Great selection of teas, and the best raisin bread anywhere. They have specials for breakfast and lunch that are always delicious, and the service is topnotch. They also don't mind if you hang out and use the WiFi while drinking multiple pots of tea.
Atmosphere is comfortable and serene," said Barbara Warren of Rochester online.
Owner Lisa Shaw said online that the business is dedicated to using only the most fresh, locally sourced ingredients.
"We offer a variety of homemade breads and pastries, made from scratch in house daily," her website states.
Her menus feature a variety of breakfast foods, salads, sandwiches, wraps and soups.
The café and bakery also features coffee, specialty drinks and teas, including black, green, fruit, herbal, roobios, and white teas.
"We are proud to serve Starbucks beverages that our highly trained barista staff has perfected, giving you the drinks you love, local!" the website states.
The business is popular for its omelets, frittata and crepes.
One selection that may appeal to college students is The Kitchen Sink.
It is a plate loaded with home fries, bacon, ham, and cheddar cheese. It is topped with two eggs of choice and sausage gravy.
Breakfast burritos and sandwiches are also available. Also featured are pancakes and Belgian waffles.
Brunch is served from 7 a.m. to 3 p.m. on weekends. Lunch, vegetarian and gluten-friendly selections are available from 7 a.m. to 3 p.m. Sunday through Saturday.
• Phone: 315-343-0439
• Hours: The business is open from 7 a.m. to 3 p.m. Sunday through Saturday.
• Website: https://oswegoteaco.wordpress.com/
• Facebook: @Oswegoteacompany
Please follow and like us: