Looking for a great breakfast? These places won't disappoint
By Steve Yablonski
Scrumptious!
It was an appetizing assignment I couldn't pass up. Where are some of the best places for breakfast in the Port City? Here are a few.
Where to start on this mouth-watering excursion?
• Wade's has been an Oswego icon for like forever. They may be a bit pricey at times, but you are never going to walk out of there hungry.
• Maria's can whip up something to satisfy every palate. If you're a Yankee fan, you'll enjoy the décor.
• Sherry's Downtown Diner is a welcoming place with good food and even better service.
• Nora's focuses on health. It serves up delicious food that is also good for you.
• Oswego Tea Company does it all; teas, good food and a whole lot more. Breakfast is served all day.
So, which is the best? I enjoyed them all. You'll just have to visit them for yourself and decide.
---
Wade's: Serving Breakfast and Memories for Decades
Sometimes, you feel like a nice homemade breakfast. But, you don't always feel like making it yourself.
Not a problem; Wade's, the Port City's landmark diner, to the rescue. They have been cooking up home-style breakfasts for decades at their East Ninth Street location.
You can sit at the counter and watch as the food is prepared or take a seat in one of the spacious booths. If the weather is cooperating, you might choose to take advantage of the outside seating.
However, you should be patient. As one of the most popular dinning locations in Oswego, depending on what time you arrive, the line of people waiting for seating to open sometimes snakes out the door and down the sidewalk.
My recent foray was perfectly timed; there were a few empty booths to pick from. I slid into one in the back corner and started going over the menu.
Perhaps the toughest part of a trip to Wade's is deciding what to have. The menu has a plethora of offerings; everything from bacon and eggs to omelets and pancakes and everything in between.
After a few moments of deliberation, I opted for a pepperoni and cheese omelet and rye toast with home fries ($8.49), a side of bacon ($2.75), and coffee ($2.29). And some corned beef hash on the side ($2.75).
The service was friendly and fast. My server filled my coffee cup and left the pot so I could help myself, a couple times.
My order arrived within a few minutes, steaming hot.
I began by digging into the home fries and toast, to uncover the large omelet. The portions I ordered were big, but you can get them bigger if you wish (and are hungry enough).
It took a while to finish off the platter; but it was worth it. Lunch time came and went and I was still comfortably full.
Wade's omelets are made with two or three eggs, from around $5.99 to $6.99 for most two-egg variety (meat lovers $11.99 – $12.99) and $6.99 to $9.99 for most three-egg types.
Pancakes range from $5.24 to $9.99, for the new cinnamon swirl pancake.
They also serve up French toast, sandwiches and a variety of extras including oatmeal and cold cereals.
Beverages, like coffee, juice and Pepsi products (one free refill) are $2.29.
Perhaps, next time, I might be hungry enough to try a Philly steak and cheese omelet ($9.99 – $10.99) or the kit and kaboodle omelet with three eggs ($14.99). Maybe I'll just have room for the more traditional two eggs, toast and home fries ($4.24).
Finishing off The Lumberjack: two eggs, two bacon, two pancakes, two sausage, home fries and toast ($12.25) in on my bucket list.
You can also purchase a loaf, or two, of Wade's famous raisin bread to take home for later.
All of Wade's homemade bread is baked on site in their in-house bakery. The raisin bread remains one of its signature items. You can also get some white $4 or wheat or rye for $5.
For more information, visit wadesdineroswego.com
Long history
Originally opened in a Pullman car in 1937 by Neal Wade, Wade's Diner has only had four different owners.
Around 1953, Thomas Parrish purchased the diner from Wade. At the time, the diner was open seven days a week, 24 hours a day, serving breakfast, lunch and dinner. Parrish decided it would be more economically feasible to make the diner a breakfast hotspot and it has remained open just for breakfast ever since.
In 1983, Tony Zappala, along with Joseph Clark, purchased the diner. In 2003, Clark, Zappala's friend and business partner of 30 years, died.
Zappala sold Wade's in July 2018 to Lance Pezzlo, his nephew and godson.
Wade's Diner
Address: 176 E. Ninth St., Oswego
Phone: 315-343-6429
wadesdineroswego.com
Hours: Monday-Friday 6 a.m. to noon, Saturday 6 a.m. to 1 p.m., Sunday 7 a.m. to 1 p.m.
---
Maria's Family Restaurant: Serving Breakfast and Much More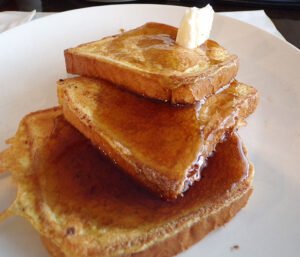 Maria's Family Restaurant is a family owned and operated business. It serves American food, with Italian specials. It is conveniently located just north of Bridge Street on West Second Street.
Come for breakfast; stop back for lunch and dinner, too. The menu offers food for every meal.
A trove of NY Yankee memorabilia adorns the walls, with various feel good posters mixed in. A sign above the kitchen entrance proclaims: "Meals and Memories Are Made Here."
The service is friendly and accommodating; my server came by a couple times patiently waiting as I scanned the menu, unable to make up my mind. It was breakfast time, but the burgers sure sounded good!
There were several regulars seated around the room, but it didn't feel crowded due to the size of the area.
My food was very good. The waitress was quick and friendly. Maria's is just the spot for a quick and easy breakfast.
It's a nice place to eat and relax with a pleasant 'homey' atmosphere.
The dinning room is spacious with tables in the center and a few booths lining the side wall.
The food is plentiful and reasonably priced, also.
Pancakes appeared large enough for two. So, that's why I decided to go with the three big French toast instead. Add some sausage patties and a bagel and I soon had two large platters in front of me. All that for just $11.61.
The portions aren't intimidatingly huge. They're just right to fill you up and get you on your way without feeling 'stuffed.'
I slathered some syrup on the French toast and dug in. They were thick, fluffy and delicious. They were gone quicker than I expected.
The sausage patties found their way between the bagel slices; an impromptu breakfast sandwich.
The breakfast menu for children and senior citizens ($5) offers one or two eggs with two slices of bacon or two links with toast; one small hotcake with two slices of bacon or links; or a chocolate chip or blueberry or cinnamon hot cake with two bacon or links.
Perhaps, if I'm hungry and feeling adventurous, next time, I may sample a couple selections here.
They also feature a lunch menu for kids and seniors, featuring a variety of burgers, chicken tenders, hot dogs and more for $5.95.
The dinner menu includes things like meatloaf topped with gravy or chopped sirloin topped with mushroom and onion gravy ($12.95 each).
Maria's also features a seafood platter (fried shrimp, fish bites, clams and French fries) for $16.95. And Italian entrees such as spaghetti and meatballs for $10.95 or chicken parmesan with spaghetti for $14.95.
For after supper, don't forget a big piece of pie, carrot cake, bread or rice pudding, or maybe a brownie sundae. Prices range from $4.50 to $5.95 (sundae).
Maria's Family Restaurant
Address: 111 W. Second St., Oswego
Phone: 315-216-4562
Facebook: Marias-Family-Restaurant
Hours: Monday – Thursday 7 a.m. to 7 p.m., Friday and Saturday 7 a.m. to 8 p.m., and Sunday 7 a.m. to 2 p.m.
---
Nora's: Good Food That's Good For You
Tucked away along West First Street, among a variety of other eateries, Nora's is a healthy-minded quick-service diner that focuses on soups, stews, salads, sandwiches and protein bowls, breakfast as well as lunch fare.
They offer take-home entrees and healthy sides.
Environmentally conscious, Nora's serves clean ingredients in all its meals; good food that actually is good for you. It is quite different from most other restaurants; healthy and delicious.
OK, I stopped in a little after 10 a.m., so it was more of a brunch instead of breakfast.
Patrons order at the counter; the food is brought to the patron's table, inside or outside. I opted for a table at the front window.
They offer great options for vegan and vegetarian meals. Being a meat lover, I selected "Sean's Favorite," house-roasted turkey breast, sub oil, lettuce, tomato, onion, parmesan, pepper relish and mayo served on Italian sandwich bread ($11). I added a coffee ($2.25) and a warm croissant with blueberry butter, with chunks of blueberries ($3.50) for a 'dessert' later.
Within a couple minutes after taking my seat, the sandwich arrived. I helped myself to a cup of coffee and prepared to dig in.
The sandwich was bulging with tasty ingredients. The peppers added great flavor and just the right amount of heat, not overwhelming. The onions and lettuce were fresh and crisp.
The prices are reasonable for what you receive. In fact, the croissant will be for later, much later.
The food available during Nora's breakfast and lunch hours is definitely on the healthier side. It caters to a wide array of dietary preferences, including gluten free.
You can try a Southwest breakfast bowl ($10) or the nuts and berries porridge bowl ($8) or a breakfast burrito ($7).
For lunch, you can select from several protein bowls ($9.50) or a sandwich like the fried green tomato BLT ($11) or maybe a turkey and brie panini ($12). Perhaps the Havana special is more your style, a pressed hot sandwich of pulled pork, Swiss, ham, pickles, mustard and ciabatta ($9.50).
They also feature chicken salads, cauliflower and chickpea stew, cauliflower or Buffalo chicken pizzas as well as others (whole and by the slice. Call ahead and they'll make it to order); a myriad healthy choices. The "grab and go" menu features chocolate peanut butter protein balls, fruit and yogurt parfait, grapes and cheese ups and much more.
Nora's is just about two years old and gaining popularity among locals and visitors. The only drawback that I could find is the metal chairs are not the most comfortable.
There are so many things on the menu to try; you'll have to come back for more.
(By the way, I'm still not ready for the croissant).
Menu items, hours and prices are subject to change.
Nora's Restaurant
Address: 203 W. First St., Oswego
Phone: 315-216-4629
Website: www.facebook.com/norasoswego/
Instagram: @norasoswego
Hours: Monday: 11 a.m. – 3 p.m., Tuesday–Friday: 10 a.m. – 3 p.m., Saturday: 9 a.m. – 3 p.m., Sunday: Closed
---
Oswego Tea Company: A Lot of Tea and Good Food, Too
The Oswego Tea Company, don't let the name fool you.  They've got teas, for sure; and a whole lot more!
Breakfast is served all day.
As I pondered the menu, my server filled my coffee cup.
The build-your-own omelet starts at $6.50. It comes with home fries and your choice of toast.
You can add some cheese ($1); there is plenty to pick from. Add some meat (bacon, ham or sausage) for $2.75. And, throw some veggies in the mix ($1.25) — broccoli, onions, spinach, peppers, tomatoes, jalapeño or mushrooms (mushrooms are a veggie? Who knew?)
It sounded good to me. So, I piled on some Swiss, onions, sausage and mushrooms. Within a few minutes, my server arrived with a large platter. Everything was fresh, hot and delicious.
I cut into the omelet, the stringy melted Swiss stretched and stretched. The veggies were tender and crunchy and tasted great.
I selected a seat at the counter along the huge East First Street facing window. It was relaxing to sit and watch the morning unfold outside. Early-risers strolled across the Harbor Rail Trail, vehicles rolled on East First (some still traveling at Route 481 speeds).
After a few bites of the home fries, I noticed they had a bit of a pepper kick. Nice. The omelet seemed kind of small, I thought. I kept eating. Would I be hungry before noon, I wondered. Ten minutes later, I was still eating; and another five minutes after that. Hope I can finish this, I thought.
As if on cue, my server returned to refill my coffee as I finished off the last of the omelet and eased back in my chair.
The Company breakfast (two eggs and toast) is $5 and a breakfast sandwich (scrambled eggs, choice of meat and cheese, served on a bagel, croissant, English muffin, homemade toast or biscuits — when available) is $6.
There are also frittatas, French toast (including Amazin Raisin French toast), crepes, gyro omelets, waffles, eggs Benedict, burritos and pancakes.
If you are really hungry (really) you may want to try The Kitchen Sink ($10.75), a plate loaded with home fries, bacon, ham and cheddar cheese topped with your choice of two eggs and sausage gravy with a side of toast. I'd need a doggie bag, maybe two!
Oswego Tea Company also has gluten-friendly French toast, pancakes (short and full stacks) and waffles.
Their breads (including the Amazin' Raisin) are available by the loaf. And they can ship worldwide.
Some of the other bread options are: white, wheat, rye, honey oat, a gluten-free specialty and more.
Brunch is served
Did you arrive a bit past breakfast time? Not to worry! They have a delicious brunch menu. It includes fare such as chicken and waffles, apple & bleu salad, crab stuffed crepes, double chocolate pancakes and more.
Soups, sandwiches, wraps and pizza highlight the lunch menu.
There's plenty to drink; milk, juice, Coke products, a variety of teas (including by the pot), Powerade and Starbucks coffees. The tea menu is lengthy: herbal, white, roobios, fruit, green and black teas.
They have plenty of salad options and side orders to satisfy any taste. And there's a kids' menu for those 10 and younger.
You can also book an event in their tea room. They offer a full package of food, decorations and desserts for a stress-free event.
While "tea" is in the name, there are enough special coffees to satisfy everyone's tastes. I opted for one with a robust caramel flavor; a perfect after-breakfast dessert!
Oswego Tea Company
Address: 2656, 157 E. First St. #1, Oswego
Phone: (315) 343-0439
Hours: Thursday – Sunday – 7 a.m. – 2 p.m.
Order: doordash.com
---
Sherry's Downtown Diner: Bacon, Eggs and a Lot More
Sometimes, you get where you were going. Other times, fate intervenes. Such was the case the other day when I headed out for some breakfast.
I was crossing the Bridge Street bridge, intent on a location on the west side of the Port City. However, just as I did, a sign at the right caught my eye: Sherry's Downtown Diner.
The next instant, I was pulling into a parking spot along West First Street.
Sherry's Downtown Diner shares an entrance with the Children's Museum of Oswego. Go to the left into the museum; go the right into Sherry's.
It is adjacent to the Water Street pocket park.
I was welcomed as soon as I stepped inside the spacious dining area. There was plenty of room if I wanted to sit at the counter. The tables are neatly spaced out. I selected a table near the large window area that provided a panoramic view of West Bridge Street. It isn't as scenic as an Oswego sunset; but there was something comforting about relaxing watching the cars flow past, with an occasional rumble of an 18-wheeler.
You may also sit outside on Sherry's patio along Water Street.
My server was polite and attentive, without being annoying. She poured me a fresh cup of coffee as I pondered the menu, a two-sided, laminated breakfast and lunch list of options.
I decided on a couple scrambled eggs, bacon with rye toast ($4.75), a blueberry muffin ($2.50) and coffee ($1.75).
In a matter of minutes, my order arrived, piping hot. Good choice, it tasted great and was just enough to get me ready to face the rest of my day.
There's just one caveat, however. Sherry's is a bit chilly inside and your food tends to cool down rather quickly.
The eggs were light and fluffy, the bacon crisp and tasty. The two slices of toast, cut in halves, were slathered in butter.
As I was about half way through, my server came by and refilled my coffee cup. She said if I wanted anything else, just ask. Made me feel I'd been coming there all the time instead of being a first-timer.
Some artwork, created by local elementary students adorns the walls, adding to the comfortable atmosphere.
The diner has hard floors and walls; if there are a lot of customers, the sounds tend to get amplified. However, it isn't overbearing.
Breakfast patrons can also feast on pancakes ($3.75) or French toast ($4.75); whipped cream, strawberries or blueberries can be added. There is a variety of omelets to pick from as well.
If you'd like something for lunch, the menu boasts many familiar staples.
They offer a variety of soups, spaghetti, Reubens, chili, a hefty barbecue burger and several specials.
Dinner items include chicken, fish and more home cooking.
And, don't forget dessert. You can sample from chocolate lava cake, pineapple upside-down cake or a peanut butter explosion among others.
Sherry's also features a kids' menu (10 and younger) with kid-friendly items such as mac and cheese with a hot dog, grilled cheese, chicken fingers, sliders and more for $4.99 each. And, there's one for breakfast, too.
Sherry's is definitely a place to visit more than once.
Sherry's Downtown Diner
Address: 7 W. Bridge St., Oswego
Phone: 315-207-2016
Hours: Daily: 6 a.m. – 2 p.m. and Thursday thru Saturday for dinner until 8 p.m.
Website/Social: facebook.com/Sherrys-Downtown-Diner-107689274393594
Hours/menu subject to change
Please follow and like us: