Studying abroad opens up a whole new world
By Leeann Dragos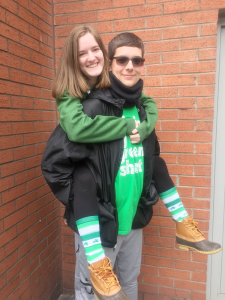 The study abroad trip to Dublin, Ireland during the 2018 spring break topped all of my expectations.
After we arrived in Dublin Airport, we explored the city a little bit, and one of our first stops was The Temple Bar. The popular spot is hard to miss with its bright red walls. There, some of us enjoyed a fresh pint of Guinness bright and early at 10 a.m.
Included in our week of adventures was Trinity College Dublin, the Cliffs of Moher, a tour of Kilmainham Gaol Prison, Christ Church Cathedral and Saint Patrick's Cathedral, Blarney Castle, the Teeling Distillery, and the Guinness Storehouse.
On one of the last nights of the trip, the whole class went to Arlington Hotel for a group dinner and a show featuring traditional Irish songs and dances.
All of these places were amazing to see and explore, but the best experience by far was being able to see the St. Patrick's Day parade in the capital city itself.
That's a bucket list thing that I never thought I'd be able to do. I consider myself extremely lucky to have checked it off my list.
A few friends and I also made our way to a pub called The Brazen Head, the oldest one in Dublin. What better day to check it out than on St. Patrick's Day?
I highly recommend studying abroad somewhere if you have the opportunity. Not only for the experiences it offers, but for the chance to see other parts of the world that you never thought you'd see.
It's a bonus to receive credits for the class and have an exciting line to add to your résumé. But these reasons are nothing compared to the people you meet and the great times that fill your days.
Before leaving for Dublin, everyone told me that traveling while in school is a must for anyone who has the chance. After graduation, you might not know when or if an opportunity like this will come around again.
If you're interested in studying abroad or if you have any questions about the process, visit the International Education Department at 100 Sheldon Hall, SUNY Oswego. The faculty, staff, and students are always there to help.
Please follow and like us: