Oswego's downtown undergoing a major facelift; new businesses flourish
By Alex Plate
This summer has seen an explosion of new development in the city of Oswego.
New businesses, renovations and construction are opening up the downtown area to plenty of new opportunities, some thanks to the Downtown Revitalization Initiative.
One of the longest-running projects, the development of a pedestrian area on Water Street was finished in mid-July. Officially named Water Street Square, the space replaces what was once a short dead-end street that cut between the Ferris Wheel and Coffee Connection.
The new space offers a faster connection between West First and Water streets as well as benches and lights to make the area more comfortable and safer.
In the Canal Commons, Kephera Coffee opened in June to serve ethically-sourced, in-house roasted coffee from organic farms. Owner and barista Jessica Spano has had years of experience in the coffee industry and has brought that knowledge with her to the new cafe.
Just down West First Street in the Canal Commons building as well, a new restaurant focused on serving healthy, organic food opened in June.
Nora's Kitchen specializes in breakfast and lunch, served in a clean, bright, modern storefront. Their porridge bowls and their hot sandwiches are highly recommended.
They also offer to-go, premade and baked goods.
Another relatively new business in downtown Oswego is J&J's Cafe on West Bridge Street. The cafe opened in the spring of this year and serves baked goods, boba or bubble tea, coffee and tea.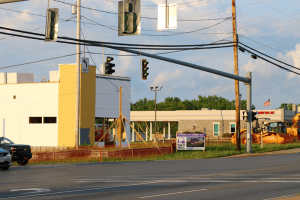 Across town, next to the Price Chopper Plaza, the long-awaited Oswego Taco Bell was expected to open in late summer after years of anticipation.
Those who travel through downtown Oswego will also note that the building that once housed the Global Buffet has been demolished, making way for a commercial space and apartment building at West Bridge and First streets.
The Children's Museum of Oswego reopened in celebratory fashion in July after months of renovations and upgrades. The city also completed beautification projects in the center of downtown and at the intersection of Bridge and West First streets.
After months of planning, a new Dunkin' Donuts location is being completed on the west side of the city as well, at the intersection of West First and Utica streets.
This location is owned by the same franchise that owns the other Dunkin' Donuts locations in the city, and has been in the works for nearly two years.
Plenty more is planned for the Oswego area, including a water park complex next to the Quality Inn, a business incubator, and the development of a mixed-use plaza downtown.
Please follow and like us: