New faculty member adjusts to new way of life
By Leeann Dragos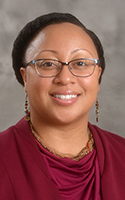 Have you ever wondered what it's like for a new professor to experience SUNY Oswego for the first time?
Well, here you go!
This is one professor's point of view on teaching in a new place and some experiences she's had along the way.
Meet Latoya Lee. She's from downstate New York. Lee was born and grew up in Queens and eventually lived and worked on Long Island. She completed her undergraduate degree at St. John's University and finished graduate work at Binghamton University.
Before starting and while finishing her degree, she worked at Adelphi, a private university, for about seven years before coming to SUNY Oswego.
She teaches sociology. In the fall semester of 2017, she taught three sociology classes which included introductory sociology, social movements, and race/ethnicity/class/gender. This spring semester, she is teaching introductory sociology, criminology and qualitative methodology.
Lee is bringing back the Sociology Club. There's a mixture of freshmen and veteran students as officers in this group. The importance of the club is that students who are sociology majors or minors can meet and reflect with others on what's happening currently. There aren't a lot of spaces where students can talk about the world using a sociological analysis.
For freshmen and sophomores, this club provides mentoring from older students. Juniors and seniors can benefit from this group because of the activities involved, such as attending conferences and working on résumés. This club provides real-life experiences to prepare for graduation.
'What's happening?'
Something Lee likes to ask her class is, "What's happening in the world?"
She wants students to discuss and think through what's happening each day, apply a sociological lens, and focus on political and controversial topics. This is something that is widely talked about in the Sociology Club.
If you're a person who is interested in what's happening locally and globally and wants to shape how you can impact the world, this may be the club for you. Everyone is welcome.
"I really love it here," said Lee, noting she enjoys the diversity of the student body and thinks that the faculty and staff "are great.
"The amount of resources provided for faculty and faculty development are much appreciated. It seems to be a very nice, welcoming, and loving environment, and I do enjoy that. You don't get that everywhere you go."
Is she ready for winter?
"I'm not necessarily worried about it, but I've been talking to people about the winters here," she said.
The only thing she will have to get used to is the parking situation when the snow comes, and she has been warned by numerous people.
Please follow and like us: