Number of factors — including climate change —affecting livelihood of one of nature's most amazing creatures
By Alexander Plate
Monarch butterflies are disappearing from Central New York, but Robert Niederhoff, a former biology professor at SUNY Oneonta, has some ideas on how they can be saved.
Niederhoff, who lives in Liverpool, said he remembers being surrounded by nature, and monarch butterflies, when he was growing up in the area. But now, more than 30 years later, he and his kids are seeing fewer of the insects that once populated the region.
"2008 was when both my kids were old enough that I could take them out and explore nature," Niederhoff said. "I would see some of the very common white and yellow butterflies, but I don't think I remember seeing a single monarch."
Niederhoff's involvement with monarch butterflies comes from a conservation perspective — he said he's interested in them because they're a good lightning rod to get people interested in protecting the environment at large.
Monarch butterflies rely heavily on the milkweed plant to breed. The female monarchs lay their fertilized eggs on the underside of the plant's leaves, which then hatch into caterpillars that eat the leaves. This process is already risky enough for the caterpillars, which are often killed by the liquid latex inside the plant's leaves.
Now, as milkweed is being killed off throughout the region, the butterflies are finding fewer viable options for their eggs. The plant is often seen as a pest and is frequently targeted for removal by homeowners and gardeners. Niederhoff says that application of herbicides has cut deeply into milkweed populations in the region.
Neiderhoff said the disappearance of milkweed is an especially large warning sign that humans are tampering too much with the climate.
Milkweed is well known to grow easily wherever it takes root and it springs back year after year, growing all the time.
Central New York, as well as southern Ontario province, is home to a variety of different species of the milkweed family, which Niederhoff said is misnamed as a weed.
"Asclepias is the scientific name for milkweed, so if you want your family and friends to start planting it, call it asclepias instead of milkweed," Niederhoff said. "Maybe we can change their views on it."
Central New York has seen some drastic effects from climate change, with the average yearly temperature rising by 2.4 degrees Fahrenheit since 1970, according to the New York State Department of Environmental Conservation. The DEC also reports springtime weather comes a week earlier than it has in preceding decades.
Niederhoff said the shifting seasons and higher average temperatures are bringing monarch butterflies to the region earlier in the year, which can interrupt their migrations and make breeding harder.
Magnificent migration
Monarch butterflies are common throughout the world, but they travel in almost entirely isolated groups called migrations. The migration that comes through Cental New York travels all the way from central Mexico, moving through Texas, Tennessee, Kentucky, Ohio and Pennsylvania.
By the time the migration has reached Lake Ontario and the St. Lawrence River, they are on their second or third generation for the year. This region sees the butterflies for months as they breed their third, fourth and fifth generations before flying all the way back to Mexico on their fifth generation in September.
Niederhoff suggests planting milkweed, and suggests that anyone who gardens to keep local varieties of flowers in their gardens, rather than the oftentimes foreign plants found in most chain garden centers.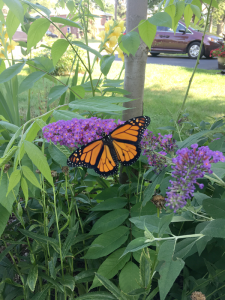 The most common kinds of milkweed plant for New York includes butterfly weed (asclepias tuberosa), clasping milkweed (asclepias amplexicaulis) and common milkweed (asclepias syriaca), according to Niederhoff.
He also suggests homeowners stop using Roundup and other herbicidal or pesticidal products, including lawn-spray services. Niederhoff says the chemicals from those products often kill more than just what they advertise, and can have long-lasting, harmful effects on the surrounding environment. Bayer, the company that owns the Roundup® brand, has lost multiple lawsuits in recent months over the presence of cancer-causing chemicals in the herbicide.
Niederhoff said while he does fervently advocate for efforts to be taken to save the monarch, the issue is really about the entire ecosystem. Monarch butterflies are more like pests than productive members of the insect population, but Neiderhoff says that they hold a special place in the hearts of many people who would otherwise be disinterested in conservation.
"Monarchs have more to connect with an audience, more than many other species do," Niederhoff said. "However, keeping it connected to protecting the environment I think is important. The monarch has definitely been used as an icon [of wider ecological problems] for years."
Please follow and like us: