By Deborah Jeanne Sergeant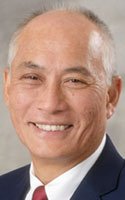 Grades, schedules, finances: college students have plenty to stress about.
Starting a semester with a pandemic yet underway only adds to the reasons to worry.
"With the changes that have come, it's introduced a lot of uncertainty and difficulty in handling the uncertainty," said Geoffrey Hopkins, psychiatrist with St. Joseph's Health.
He added that many students will likely stress about collegiate experience being much different from what they had expected.
"Meeting new people and developing new relationships is one of the prime goals of matriculation," Hopkins said.
He said that a main way that students can work through this stressor is to find ways to interact with others. Holing up in your dorm room isn't going to help. Join groups that can meet virtually or that can safely meet while abiding by social distancing parameters.
Accept that you may not spend as much time mingling on campus.
"That's not necessarily a failure in the journey to adulthood but part of the new normal," Hopkins said. "That realization can help reduce anxiety."
He also suggested part-time employment as a means of getting to know more people.
Hopkins warned against substance use to feel better.
"In the long run, it becomes more of a problem," he said. "If you develop anxiety, seek professional help as it's available via telemedicine," he said.
Joey T. Tse, director of educational opportunity program and interim director of the office of learning services at SUNY Oswego, said it's also important to manage your time well, as this can reduce panicked projects and cramming for tests. "It is about developing that habit of doing things on a regular basis," he said.
Lately, many people have experienced more free-flowing schedules with working and learning at home. Tse advises students to set up a regular sleep and study schedule for themselves, but not so rigid that it can't be tweaked as needed.
"Have regular study hours, but not long blocks," he said. "Do 90 minutes morning, afternoon and evening. If you do that every week, it's [close to] 35 hours of study time. Anytime you study more than two hours, your brain has shut down, so take a half hour or hour break."
Turn off electronics while studying to make that time count.
Keep a calendar showing when you need to begin a project or paper and when you should start studying in earnest for a scheduled test.
Ask for help if you notice the material is much harder than you thought it would be. Don't wait until your grades slip. Seek out a tutor or study group.
Don't view tutoring as a punishment but as a tool to help you succeed.
"Look at Michael Jordan," Tse said. "The reason he's a great player is he found a weakness in his game and did what he could to fix it. Most students don't reach out for it until it's too late. There's no college that doesn't want you to succeed."
Please follow and like us: