Students and officials working to turn SUNY Oswego a plastic-free campus. Ban on plastic straws, plastic condiment cups and plastic coffee stirrers at all cafeterias has already been implemented
By Maria Pericozzi
As students returned for the new academic year, they noticed some changes in dining halls and cafes on campus.
Plastic straws have been replaced with paper straws, plastic condiment cups were replaced with paper and plastic coffee stirrers have been replaced with wooden ones.
In an academic year, SUNY Oswego goes through 137,000 plastic straws, according to Jamie Adams, the SUNY Oswego sustainability planning coordinator. Those plastic straws have now been pulled from the waste stream. Students are now allowed to bring in reusable coffee cups to the dining hall, in order to cut down the waste of disposable cups.
"[Reusable cups] and the straws are a real game changer," Adams said. "I think it'll be a point at which students are given more power or control over choices as far as sustainable living goes."
The students using their voices, and making sure they are being heard, is what pushed the changes, Adams said.
"We don't know what the students want until they tell us," Adams said. "We want the students to know they are being heard. We do take action and make this their community."
Fighting for the environment is hard to do, because it's a faceless fight, said Omar van Reenan, the SUNY Oswego Student Association president.
As a student representative, van Reenan has worked with the campus community to help reduce the carbon footprint and bring sustainable options to campus.
"It's easy to advocate for certain issues humanity faces — from refugee crisis to genocide and equal pay — because those as you can put a face to it," van Reenan said. "With the environment, it takes a little more work."
Namibia, a country in Africa where van Reenan is from, was the first country in the world to enshrine protection of the environment in its constitution, he said. van Reenan has worked with student organizations and had conversations with students, where the sustainable practices from our campus had been brought up. When Auxiliary Services introduced plastic cups in dining halls, it surpassed the detrimental concerns students had on how the campus puts its best ecofriendly step forward.
Sustainability has been a campus focus since 2007, when the American College & University Presidents' Climate Commitment (ACUPCC) act was signed. Under ACUPCC, SUNY Oswego would develop efforts to reduce its carbon footprint, implementing sustainable practices by 2050.
Adams said the challenge they have been facing is reducing waste in general.
"Our office has been pushing plastic waste reduction," Adams said. "After last year's plastic cups, it led to the president's advisory council taking a look at our plastic waste."
Adams said some students have not liked the paper straws because they get soggy. She said Auxiliary Services is looking for other alternatives.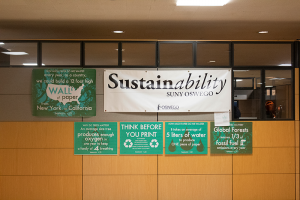 "That's been the biggest negative response we've gotten," Adams said. "Hopefully Auxiliary Services can find something more accommodating."
Adams is hoping students will take advantage of the Centro bus system to reduce the number of cars around campus each day. She hopes to make it more convenient for students.
Adams has found if students are presented with the more sustainable options, they are going to take them.
Also, there has been a lot of talk about turning the campus plastic-free, Adams said.
"I think it's a lofty goal but it is definitely achievable," Adams said.
The result of a plastic free campus movement is evident now, more than ever, Student Association President van Reenan said.
"Fighting for the environment starts now, and keeping our campus accountable for its pledged to sustainability is our duty as students," van Reenan said. "We, the students, set the standards for sustainability on our campus. We believe that fighting for the environment is always worth it."
 Two new positions were added by van Reenan to the president's cabinet: director of sustainability and assistant director of sustainability. These positions will seek to implement sustainability goals the campus has set.
"We would like to become a plastic-free campus, promote sustainable best practices to reduce our carbon footprint, hold our Student Association accountable for implementing environment-centered policies within our clubs and organizations, advocating for food-recovery networks on our campus, celebrating the paramount importance of Earth Week, and urging our local legislators to commit to uplifting our committees forward to a more sustainable future."
Please follow and like us: