By Deborah Jeanne Sergeant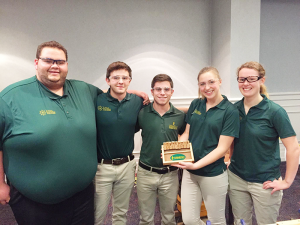 Since 2016 when he started college at SUNY Oswego, College Life has followed the collegiate career of Jacob Alexander, a technology major commuting from his parents' home in Sterling, west of Oswego. Fall 2018 brings a few exciting changes for Alexander, including a new address. Along with three other technology majors, he's renting a house in Oswego.
Though he'll need to do his own cooking and household chores, he's enjoying "having my own area of peace and quiet in my room," Alexander said. "My [parents'] home can be too busy to get work done at times."
His parents, Patti and Ron Alexander, have two younger children and one older than he is. Despite his craving for quiet, he looks forward to visiting home on weekends to stay connected with his family.
"I definitely will have to be better organized to take care of home chores," Alexander said.
An extra 40 minutes that he used to spend on his daily commute to campus will help him a great deal. He's also saving money on gas and vehicle maintenance, as well as a shorter commute when the weather turns snowy.
Alexander continues serving as president for Team Mini and Oswego Technology Student Association, roles he enjoyed last spring, and plans to travel to the Technology and Engineering Education Collegiate Association's a technology competition and job fair in Virginia Beach, Va.
Alexander was inducted into the International Technology Honors Society Epsilon Pi Tau last spring.
"I think I was chosen because of grades, but I'm not totally sure," Alexander said. "I was very excited; I honestly didn't think I'd be inducted into a society like that."
He received a pin and said he will wear cords with his gown when he graduates in recognition of the honor. He's also eligible for scholarships as long as he keeps up his grades. That may prove more challenging this year, as he anticipates his more advanced class work providing more difficult classes. Plus, he's taking on another role as a teacher's assistant for the materials processing class. Alexander also works part-time at Cooper Dining Hall.
When he has the time, he catches a martial arts class at Kuk Sool Won of Wolcott, where he earned his third-degree black belt.
"I make a schedule," he said. " Last spring semester, I did a lot of focusing on my schoolwork. I have all my classes lined up and work lined up and free time. I try to get homework done and plan some time to hang out with friends and relax."
Please follow and like us: