Journalism student shares her experience living abroad
By Maria Pericozzi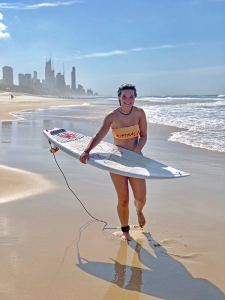 Some students at SUNY Oswego come to college knowing they want the experience of studying abroad. Jamie Aranoff, a senior from Long Island, did just that. She spent last spring studying in Australia.
"I have always had a passion for travel and exploring new places, so it was something I just knew would become a part of my college experience," she said.
Australia was an easy choice for Aranoff because she always wanted to visit that part of the world. It's far away, so students have to really commit to traveling there, and Aranoff said spending a semester there was a perfect opportunity.
She studied at Bond University, which is an hour south of Brisbane in a region known as the Gold Coast.
Aranoff is a journalism major and wanted to study somewhere she could absorb the media in her native language. She said she was drawn to the culture and lifestyle on the region.
While being away from family and friends for five months, Aranoff's biggest challenge was leaving.
"The time change was 15 hours ahead of home, which presented a challenge," Aranoff said. "When I had to get paperwork and other logistical things ready for school, it made everything more difficult. But I want to go back."
Aranoff did a lot of traveling while she was studying abroad. She said even though she had five months in Australia, it was not enough. She traveled to Sydney, Melbourne and Airlie Beach, around the Great Barrier Reef, Whitsunday Islands.
"Australia is a massive country," Aranoff said. "It's bigger than a lot of people realize. It's roughly the size of the U.S."
She also traveled to Bali, Bangkok, Phuket, Thailand, Singapore and New Zealand, racking up airline miles, she said.
"I loved everything about Australia," Aranoff said.
As she is planning her life after graduation in May, she is considering going back. She enjoyed the lifestyle that people in Australia have.
"A few of my favorite things are the laid-back, care-free lifestyle and healthier food options," Aranoff said. "I also like the weather, the beach and surfing."
Aranoff said all students should study abroad.
"It definitely helps to get out of your comfort zone and really teaches you more about life skills, the world and yourself than any classroom every could," Aranoff said.
Aranoff started the program studying abroad alone, not knowing anyone in the program. Now, she has friends from all over the world.
Please follow and like us: